As a dental team, you juggle a variety of tasks in service of making patients smile. EDDSON was designed around the way you work to streamline, simplify and anticipate your workflow. Here are a few features that users love.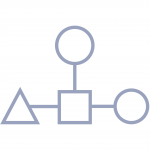 Workflow Designed for You
Engineered around the way you actually work to deliver efficiency and effectiveness in your busy day. 
+ Tabbed Browsing allows you to launch and toggle back and forth between multiple different tasks, never losing where you left off when an inevitable distraction arises. 
+ Intuitive Navigation provides quick, easy access to the most used functions from a heads-up set of primary controls. You won't have to back track, close open activities, or otherwise navigate to multiple screens to access function buttons and controls. 
+ Nested Controls simultaneously engage in different tasks, in separate patient records, so that you can be treatment planning in one patient record while processing a payment in another, or any other variety of activities. 
+ Intelligence baked into EDDSON anticipates what you might want to do next, and pulls up related information that could be useful in whatever task you're working on.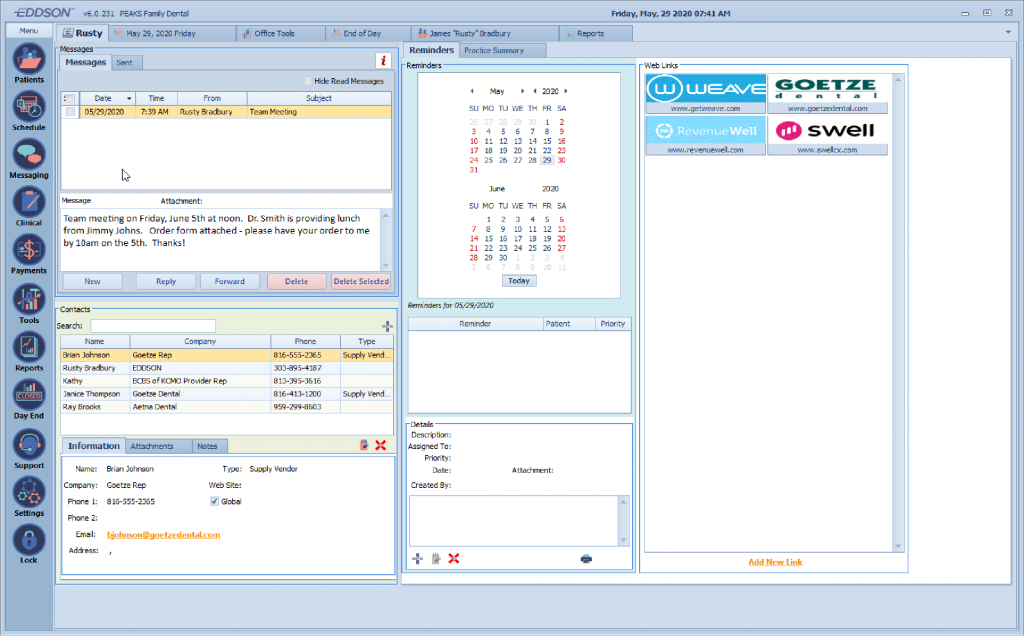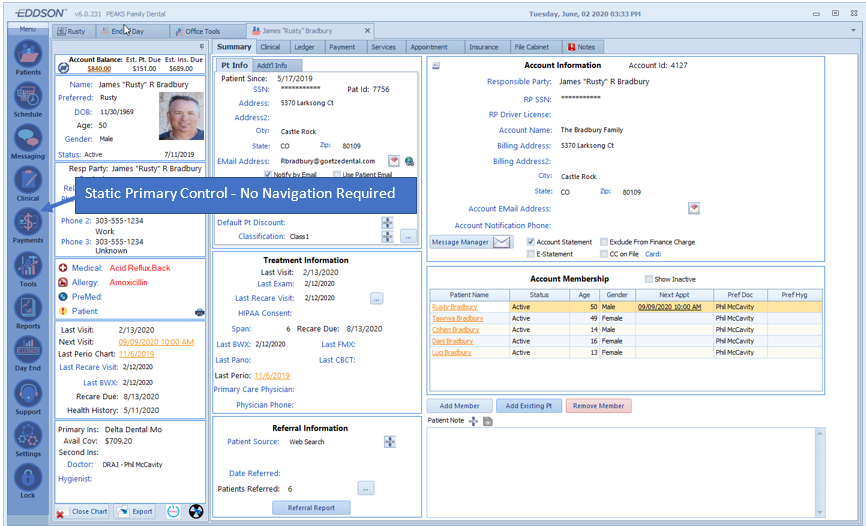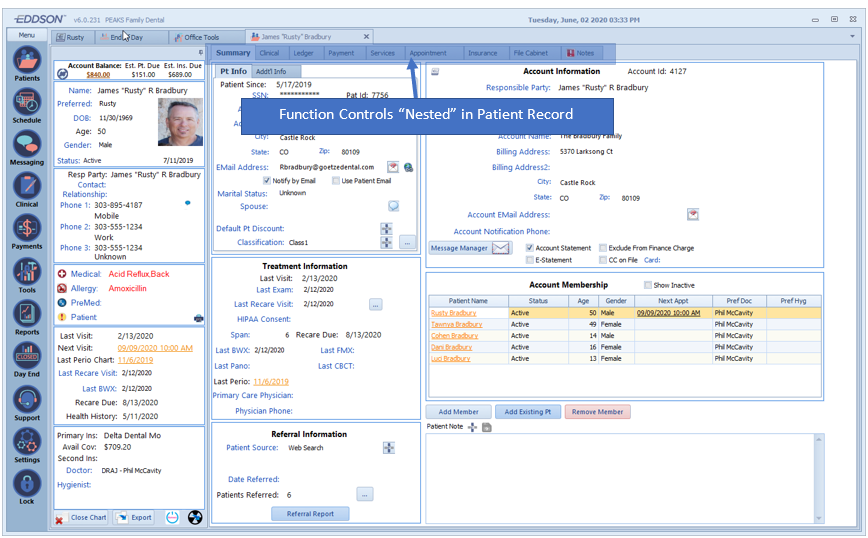 Better Accounting for Better Information
Strict adherence to advanced accounting principles results in comprehensive reporting capabilities that produce consistently accurate information.
+ True Line Item Accounting delivers consistently accurate reports and account statements as well as the ability to instantly produce account balance "open item" details
+ Event-based ledger provides a more detailed and organized account ledger.
+ Save time with Interactive End of Day Processes, which allow for quick review and edits of daily transactions without the need to run and preview multiple accounting reports.
+ Interactive Management Tools deliver instant access to accounts receivable and outstanding claim information, bringing efficiencies to these essential activities.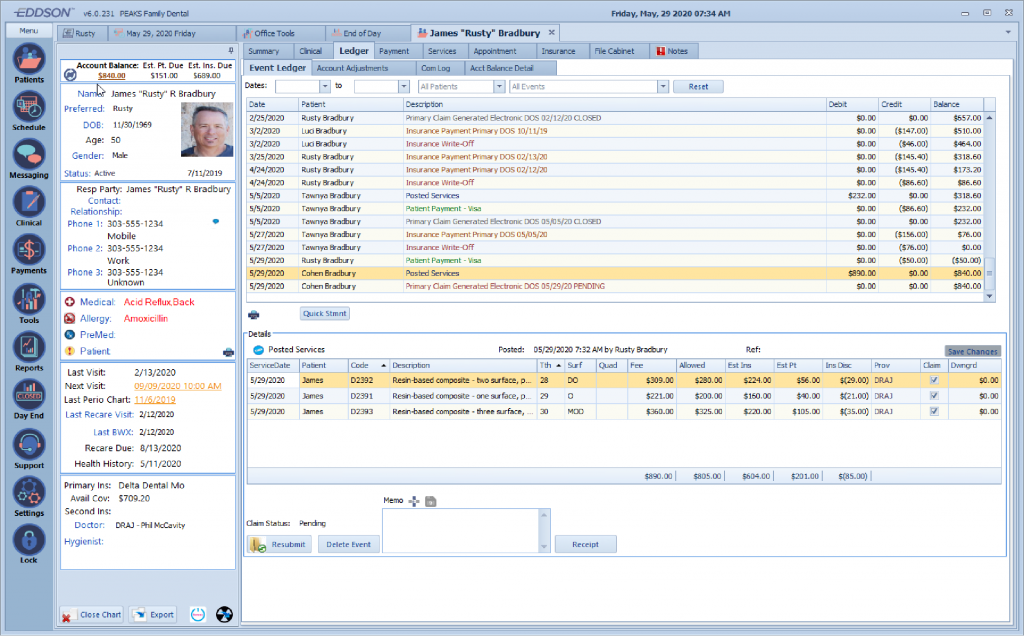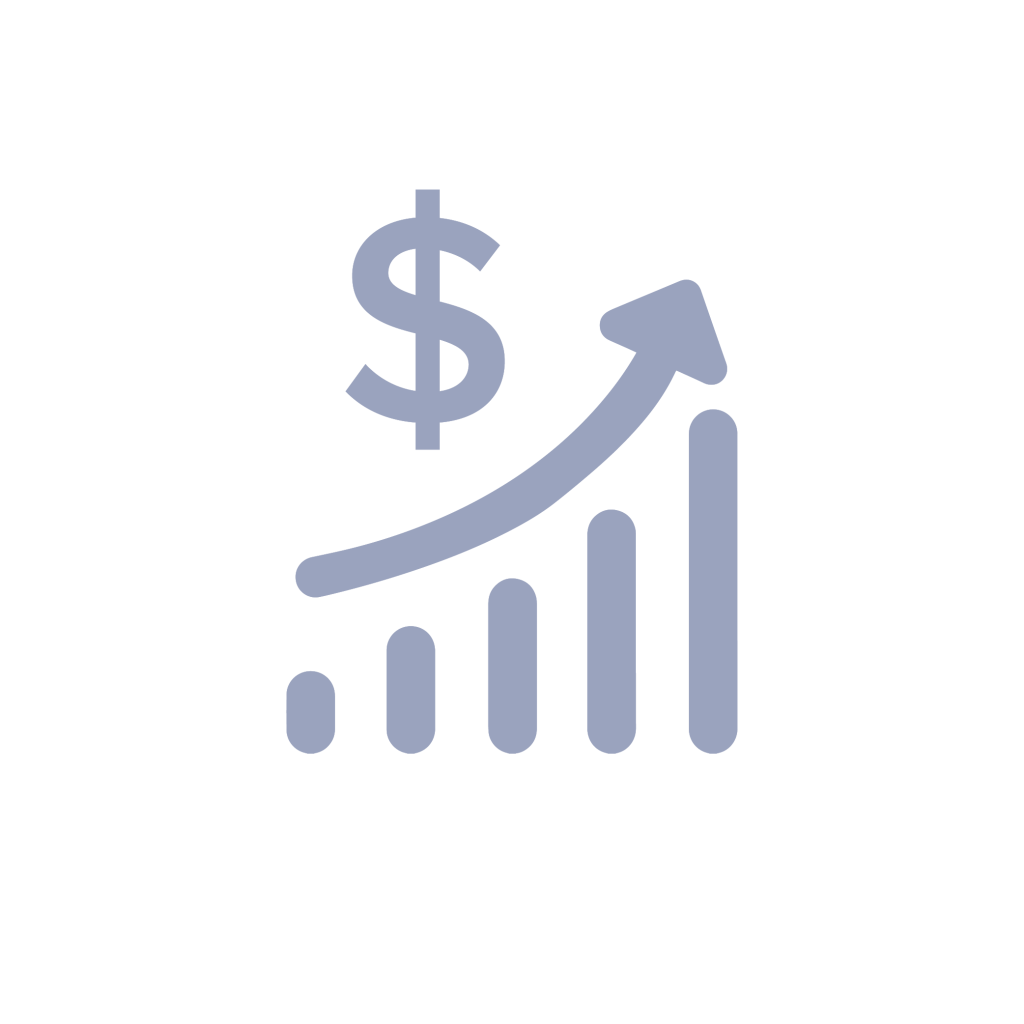 Improved Profitability Through Enhanced Insurance Management
Tracking and managing insurance is a critical component for most dental practices. Better coverage and claims management and the ability to accurately estimate patient amounts due, means improved time of service collections, more timely claim payments, and ultimately a better patient experience.
+ Achieve more accurate insurance estimating and time of service collections thanks to EDDSON's Comprehensive Coverage Administration, including detailed plan allowances, deductibles and waiting periods.
+ Fully track carrier allowed amounts and associated insurance write-off adjustments to produce true Gross and Net Production numbers.
+ Improve your collections efficiency with the Interactive Claim Management Tool, which enables you to review, sort and filter, then select and submit claims en masse to help ensure quick payment turnaround. Get Your Data Working for You and for the Benefit of Your Patients
Effective treatment management ultimately helps you deliver a higher level of patient care.
+ Track the entire course of treatment with the Treatment Planning module – from planned to scheduled, on through completion, and includes precision estimates for insurance and patient amounts due.
+ Use the interactive Treatment Management tool to monitor your case acceptance to track the status of diagnosed treatment to ensure a higher planned to production ratio and that patients get the care they need.
+ Create note templates and quickly add free form text as needed with the Clinical Notes module, which allows you to review and edit the day's clinical notes from a single screen.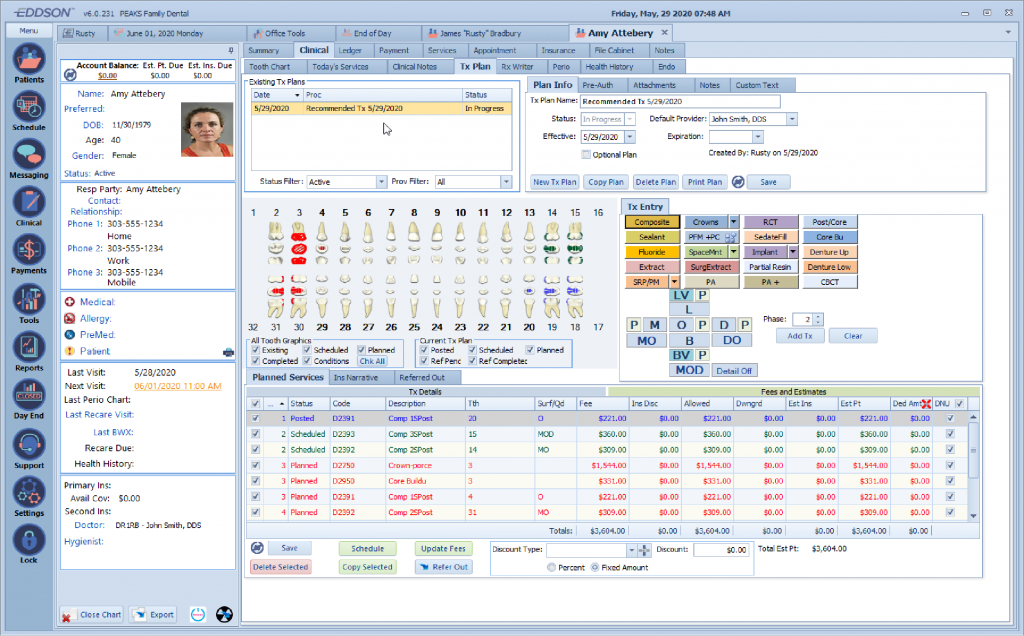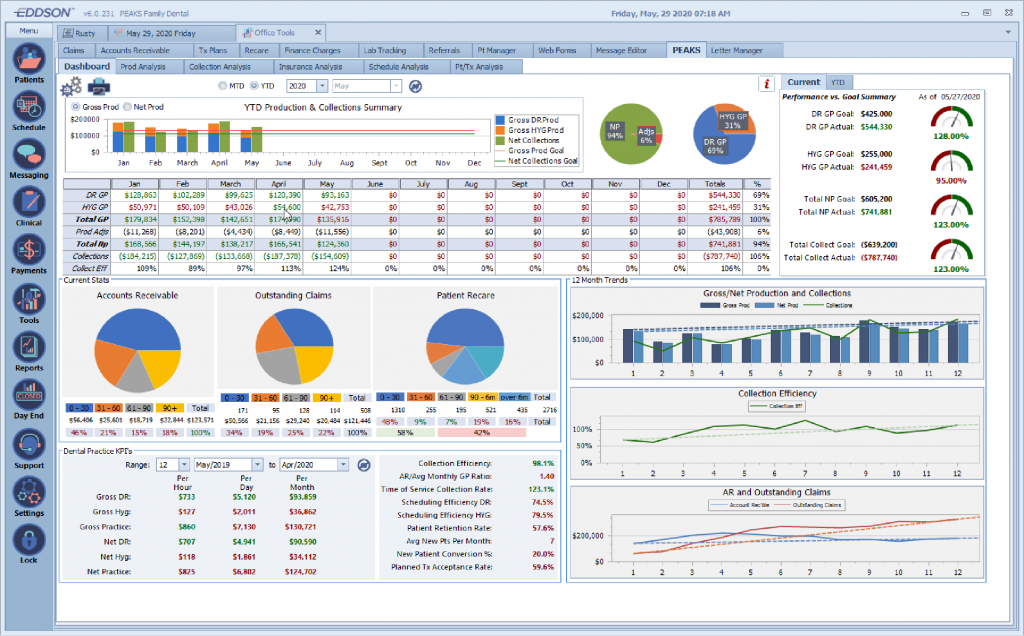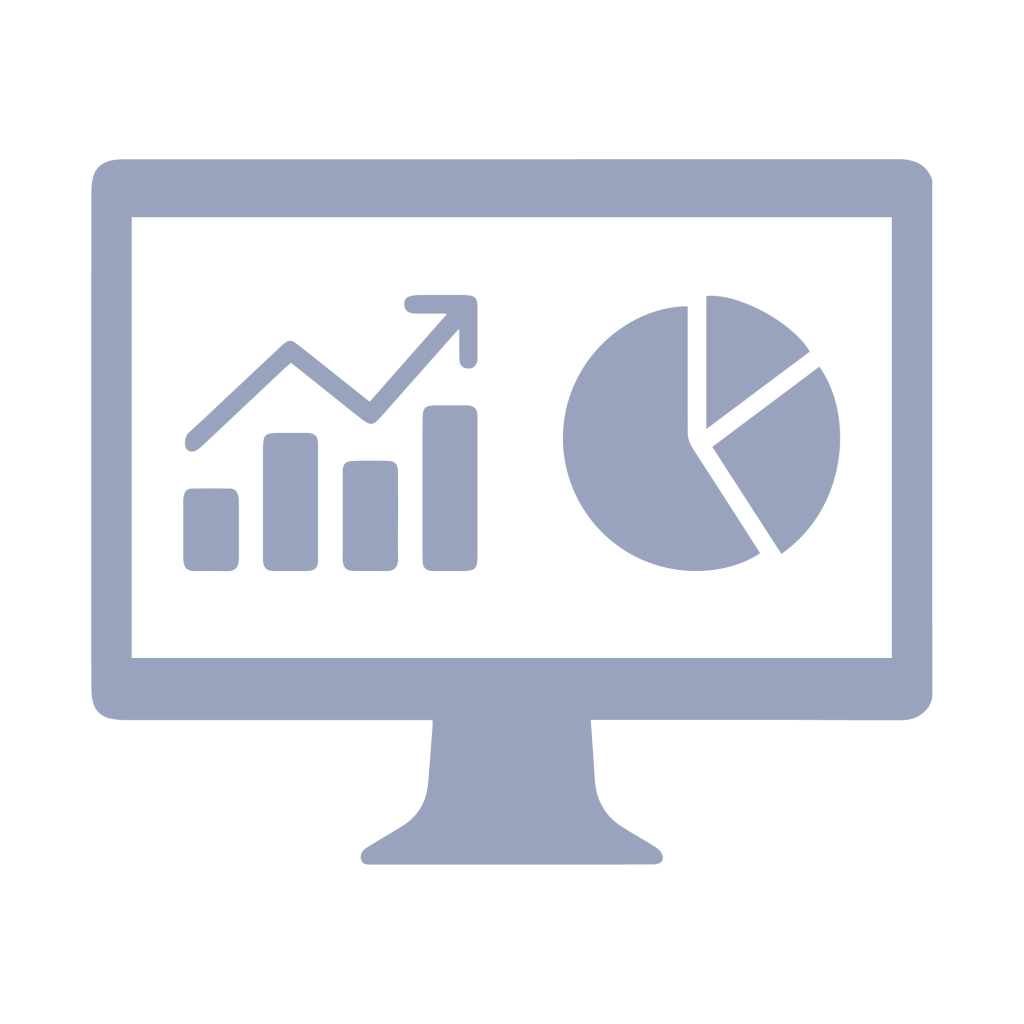 Informed Business Decisions Through Better Data
Critical business, patient care data and summary information are always at your fingertips with the Practice Efficiencies and Key Statistics (PEAKS), built directly into EDDSON.
+ Patient Manager provides real time access to dozens of patient related variables to produce custom lists and reports on demand.
+ The easy-to-use Recare Manager provides access to patient recare and retention information. This helps maintain their engagement with your hygiene team to ensure their oral health, and the profitability of your hygiene department.
+ What takes administrators and practice consultants hours to gather and compile is available through PEAKS (Practice Efficiencies and Key Statistics) in an instant. PEAKS delivers real-time insights into all areas of your practice's performance in intuitively and concisely designed dashboards.
Schedule your demonstration
with a Practice Management Specialist.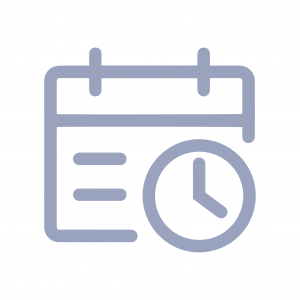 Manage Appointments More Effectively
Quickly create appointments and related activities thanks to a complete picture of your schedule.
+ Ensure that scheduled services are posted to the correct dentist and hygienist providers with Auto-Assignment.
+ Easy visibility of cancelled and no-show appointments with heads-up information in Appointment Footprints to help fill any last minute scheduling holes.
+ Fill last-minute schedule openings with the Appointment Quick Call that auto-populates with potential candidates.
+ Review services, add and edit payments, discounts and insurance narratives, all from a single-screen Appointment Checkout module.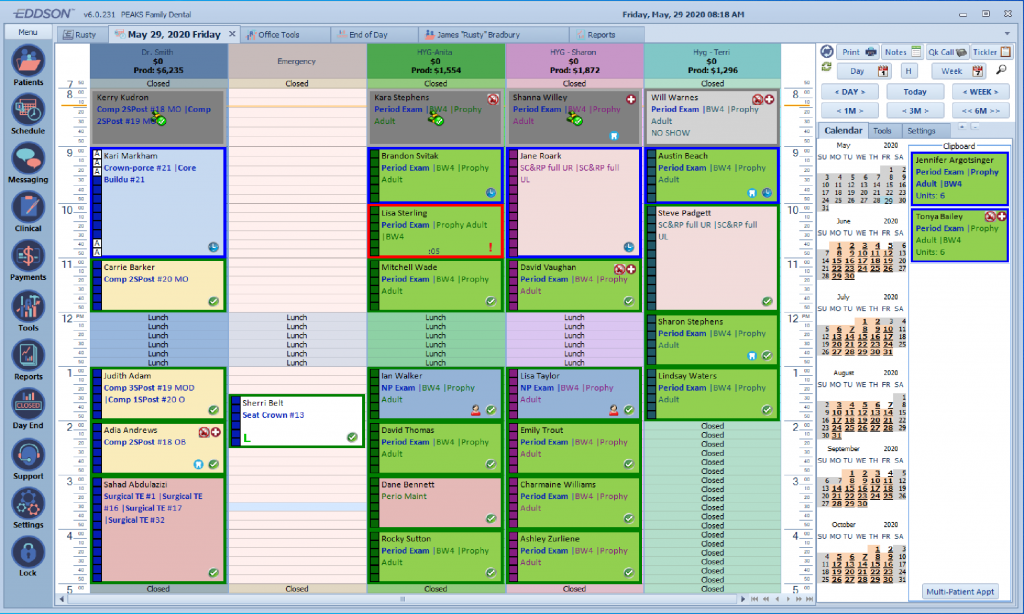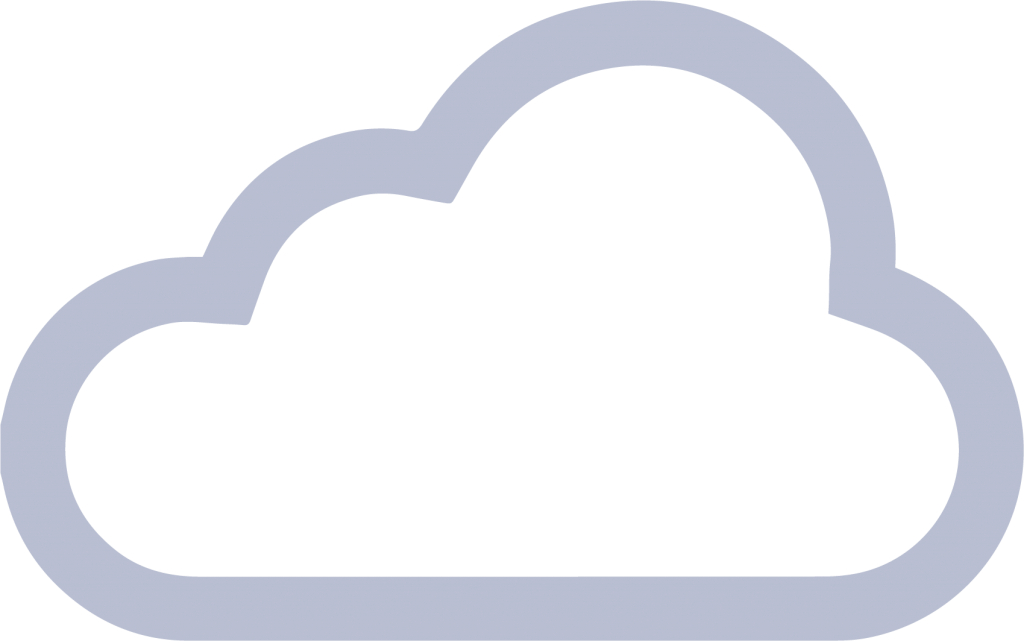 Get Your Data Working for You and for the Benefit of Your Patients
Avoid the frustration of the typical telephone matrix – you need help now.
+ Live Support is accessed directly through EDDSON and puts you in contact with a knowledgeable support specialist with just a couple of clicks.
+ Total commitment to your experience as a user. Our nimble development team is attentive to customer feedback and requests to help make EDDSON truly your practice management software.